Wastewater Recycle Systems
Remove Heavy Metals from Waste Streams to Meet City and State Guidelines
Common Uses:
Deburring waters
Rinse waters
Mop waters
Water soluble paints & coolants
Sale or Rental Options
Continuous warranty
Technical Support
Wastewater Recycling System Supplies
Filter Paper

30" X 250 Yards 50 Micron
36" X 250 Yards 50 Micron

Wastewater Powder

GR 20 Cleartreat - 50 Lb. Pail
Our process is Chemical Precipitation, effecting a chemical and physical dissolution of heavy metals from your wastewater.
Operator convenience is designed into our system:
* All of our chemicals are safe to the user
* Economical filter paper or a high volume filter press
* The sludge produced is disposed of easily using a convenient filter bag
* We offer recycling to reduce your water costs or you may confidently sewer the processed water
WW200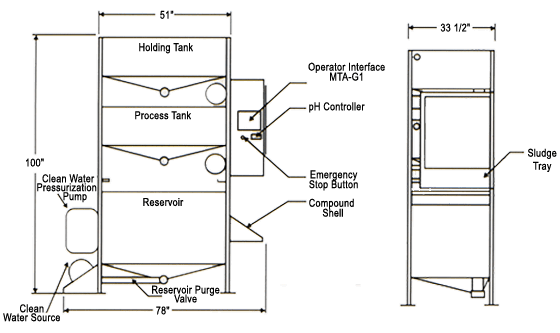 WW55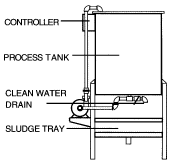 Model
Footprint
Gallons
Per Minute
WW55
25"x 35"x 60"
1-Manual
WW200
70"x 56"x 87"
2.5
All of our Wastewater Recycling Systems are constructed of 304 Stainless Steel for durability. All machines larger than our 55 gallon unit are semi-automatic and require 5 minutes of operator time per hour due to the convenience of electronically friendly controls. Extremely low maintenance and space saving footprint make all of our systems easy to incorporate into your production loop.